Electrician in Redding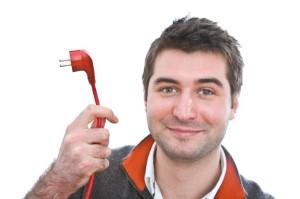 Redding offers lots of great home and local businesses to take advantage of. There are a number of places to visit and see in the community. When it comes to electrical contractors, there is one that stands out from all the others and that is Buckley Electric & Automation LLC. We realize that your business and home matter when it comes to the electrical systems and home automation.
An electrical home generator can replace the portable one that takes fuel to run. You don't have to leave our generators outside as they are hooked directly into your home's electrical system. A whole-home generator can be a blessing in disguise whenever the power goes out.
A generator can retrieve power in no time so that you are not without for a long period of time. These generators run quietly so you won't even know they are on. Also, they are reliable. There is no guess work involved with these.
Home generators will save your food from spoiling, provide you with a radio for communication, and keep the lights on so that you can still accomplish indoor living tasks such as doing the laundry, running the dishwasher, and cooking meals for the family.
Redding Electrician
Are you putting an addition or remodeling the home? If so, you are going to need an electrical contractor. We will make sure that your structure or remodel is up to safety codes. You should hire us for the following reasons:
Able to take on big residential projects
Experienced in troubleshooting/detecting
Saves you money
Offers unbeatable customer service
Don't just hire any electricians. Call and find out why we are the best in your community and hire us to provide your home with the electrical repairs and installations that you need for stress-free living.
Redding Electrical Safety Inspection
When you decide to do electrical work on your own, you're taking on problems that don't need to be. Electrical problems are going to be something that is unavoidable. But with an electrical safety inspection, you can avoid future ones and costly repairs.
Being able to live in a home that is free of electrical problems develops a sort of utopia for you and your family to live in. Electrical problems are one of the leading causes of house fires and injuries in the United Sates.
Most homeowners try and tackle electrical problems on their own. This is fine for small, easy repairs. But whenever it comes to large ones, we won't let them get out of hand. If you are going to need a skilled Redding electrician, call us today.
What Redding Homeowners Are Saying About Us
Buckley Electric & Automation LLC is Rated: 5 / 5
based on these 1 happy customer reviews.
---
"5 Stars"
---
If you are looking for a Redding Electrician then please call 866-200-0076 or complete our online request form.