Professional Electrical Repairs in Greenwich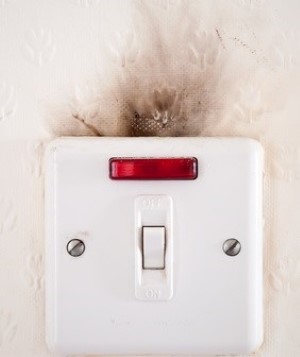 Is your home going through electrical problems and you can't figure out where they are coming from? If you are in need of electrical repairs that need done in your home, call Buckley Electric & Automation LLC as we are a full service electrical company. You should never do repairs on your own especially if you do not have the right and proper safety equipment.
Do It Yourself Electrical Repairs is never recommended! Call your trusted Greenwich Electrician to handle all your electrical needs. A five minute video is not sufficient training to put your hands in a electrical panel. Even if your repairs seem to work you could be putting your family's lives at risk. You can keep your family and home safe by calling a professional to have your electrical repairs done right the first time.
Ceiling Fan Repairs
Our electricians are done through licensed and professional electrical contractors all of who have been in their fields for some time. Ceiling fans can reduce the amount of air inside the home. You can guarantee that a damaged ceiling fan can be easily be repaired in most cases.
Electrical Troubleshooting
An older and a few newer homes will experience electrical problems. In order to properly dissect the problem, electrical troubleshooting is in order. Your home should never be faced with the following electrical problems:
Lighting – Lighting should always remain safe and protected with the proper insulation. We can assess your wiring so that it protects the home and can be safely used and plugged in.
Power – When you have an "octopus", this means you have too many things plugged into your outlets. Normally this will result in a blowout.
Old wiring – So many older homes were built before 1980. Older wiring was used pre-1970s and 60s. Wiring needs to be updated in order to have safer living environment.
Lighting Repairs
In areas where moisture is present (bathroom, laundry room, kitchen, and basement), you can be faced with lighting problems because the wiring inside your walls can become a ticking time bomb whenever they are met with water.
Outlet Repairs
The amount of outlets in your home all dictates the type or problems that you'll experience. If your outlets are bad, there is no advantage to having them as they will spark and cause internal fires. Outlet repairs can fix the internal damages instantly in your Greenwich home.
GFI Electrical Outlets
For bathrooms, kitchen, and laundry areas of the home, a GFI outlet can stop electrical shocks and fires from occurring. Getting a GFI outlet installed will keep your outlets safe and your home too. Call Buckley Electric & Automation LLC for electrical outlet GFI repairs and installations as you'll experience the following benefits:
Fire prevention
No damage to appliances
Shock prevention
When needing Greenwich electrical repairs done to your specifications and those to stay up to code, you should use the services of Buckley Electric & Automation LLC. We want to make certain that your home is a much safer place to reside.
Our Greenwich Electrical Repairs Provides These Detailed Services
Code Violation Corrections
Breaker Installation
Home Wiring
Electrical Contractor
Electrical Repairs
Electrical Troubleshooting
Electrical Maintenance
Lighting Repairs
Outlet Repairs
Electrical Panel Repairs
Ceiling Fan Repairs
GFI Electrical Outlets
If you are looking for Electrical Repairs in Greenwich then please call 866-200-0076 or complete our online request form.