5 Ways to Upgrade Your Greenwich Home Using Lighting
---
---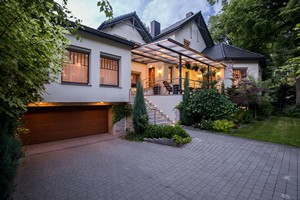 Home lighting can seem like a basic, boring element of any home, but it doesn't have to be. Basic, harsh overhead lighting can become a thing of the past. Nowadays, home lighting can be as intricate, automated, decorative, or functional as you like. From track lighting to landscape lighting and everything in between, Buckley Electric & Automation LLC can help with professional installation of all manner of lighting upgrades. Contact our team of polite, professional experts today to get started on your new home lighting project!
Attractive Indoor Lighting
Your home lighting should always be functional, first and foremost. However, it should also enhance your house and add to the décor and style of each and every room in your home. Rather than allowing basic, bland overhead lighting such as flush mount ceiling lights to remain in your home, why not upgrade to modern, attractive alternatives? At Buckley Electric & Automation LLC, we can help with turning your dated, bland lighting into updated, appealing alternatives. Track lighting can be a great choice for your home kitchen, living room, or office, and can be used anywhere you want to illuminate a specific part of your home for display for for completing tasks. Available in a wide variety of finishes, shapes, and sizes, track lighting can complement your existing indoor style. Choose from linear or curved tracks to give even more flexibility in where you want to direct your lighting. Another great option for attractive indoor lighting is recessed lighting. Recessed lights are set into your ceiling, offering a streamlined look that saves space that hanging lights or even mounted lights would otherwise occupy. Because it saves overhead space, recessed lighting can make your rooms look and feel bigger. Recessed lighting is an excellent way to provide ambient lighting to your home, but it can also be used to accentuate something in your home, such as a gallery wall or fireplace. Contact Buckley Electric & Automation LLC for for information about all of our attractive home lighting options.
Landscape Lighting
In addition to beautifying your home interior, lighting can be used to enhance and upgrade your home exterior. After all, your landscaping can be just as beautiful at night as it is during the day, but if you do not have adequate lighting, nobody will be able to see it. If your Greenwich yard has been well maintained and landscaped, you want to ensure that visitors and passersby can enjoy it at all times of the day and night. Landscape lighting can help highlight particularly beautiful plants or even hardscape elements like patios. On warm evenings, your landscaped, lighted yard might even provide a great location for a party!
Pool Lighting
When the weather gets warm, there is nothing more relaxing than spending time in and by the pool. Why let a little think like nighttime stand in the way of enjoying your summer fun? Have pool lighting installed to ensure that your household can safely lounge by the pool or even swim well into the evening hours. At Buckley Electric & Automation LLC, we offer a variety of pool lighting services. From deck lighting to underwater lighting, we have the solution to your pool lighting problems. Contact our polite, knowledgeable team today for more information!
Security Lighting
A well-illuminated home exterior works as a strong deterrent to would-be intruders. Criminals know that the best way to get away with something is to not be seen doing it. If your home is well-lit at night, burglars know that they may be seen approaching your property by your neighbors. Most intruders would think twice about targeting a well-lit home and would instead look for a darker home to break in to. Security lighting such as flood lights and motion sensor lights are a smart investment for your Greenwich home security.
Lighting Automation
In this day and age, more and more daily life tasks are becoming automated. Automating your house is a great way to reduce the stress that you experience in your home, so that you can focus on relaxing and restoring your energy before you have to go back out into the world again. Lighting automation is a great way to control your home lighting, so you never have to worry about whether you left the lights on again. Plus, with automation, you can ensure that your home is well-illuminated for when you come home on a dark winter evening, giving you peace of mind.
For all of your lighting automation options, contact Buckley Electric & Automation LLC, your team of expert Greenwich electricians today at 860-408-9713 or complete our online request form.