Ways in Which Lighting Can Keep Your Family Secure
---
---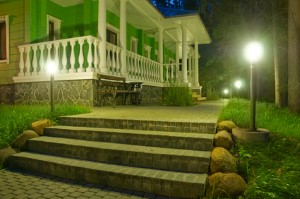 There are plenty of different lighting ideas that you can implement into the home. After all, illumination is necessary. Safety should always be a concern. Each room can be a little different from the next whenever the lights have been changed. Professional design experts are always available to help get your home illuminated properly.
You can always add illumination to your rooms. The bedroom(s), kitchen, living areas, dining rooms, and others can be garnished with fashionable lights. This will make your interior a safer as you can keep an eye on the things that you need to as good illumination prevents theft and burglaries.
Look at your neighbors' homes. If they are not lit up at night then they may become the next target for a whenever it comes down to specific issues pertaining to your lights, there are professional electricians that can help.
There are factors that determine what type of lights you should have installed in your home. Here are some things to consider for your Wilton residence:
Type of activities practiced in each room
Special needs for rooms
Focal points and highlights
Safety and security
Indoor lights may allow you to discover what you've been missing in those rooms all along. New lights will brighten up rooms while adding to the ambience. This is how professionally planned lights can make your rooms the central focus.
Energy efficiency is on everyone's minds at the moment. Cutting down on the monthly electrical budget could end up putting more money into your pockets. Lights come in so many different forms right now that you can literally leave them in for pennies a day.
Knowing how many watts you need can be confusing. Wondering what type of bulb provides flattering illumination. There are lots of differences in lights which includes the bulbs as well as the difference between LED and fluorescent.
Security is something that should never be overlooked in a home. Protecting the family takes priority over anything else. Lights on the inside and out can deter thieves from entering your home as they will get a sense of someone always being in the home.
Interior and exterior illumination can save you more money by going with the right fit for your home. The main types of illumination, besides interior and exterior, are task, ambient, decorative, path, kitchen, and bathroom.
There are many ways to keep your family safe and the home always lit up. Before going out and purchasing new lamps and light bulbs, contact the Wilton lighting experts at Buckley Electric & Automation LLC.
If you are looking for Lighting Solutions in Wilton then please call 866-200-0076 or complete our online request form.