Greenwich Electrical Wiring Specialists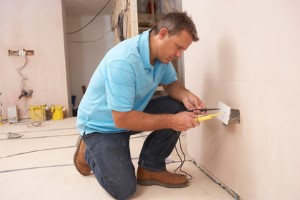 There are special types of electrical wiring for the home. Each wire does something different from the other. Decades ago, home wiring systems were defined as being very fragile and dangerous. If you think that your home's wiring system is old and may need to be replaced, call Buckley Electric & Automation LLC for our wiring services. Your Greenwich Electrician is always available to attend to your electrical matters and alert you to whether you are in need of a replacement or repair.
Wiring used in appliances deliver an electrical signal that operates them. Older wires can become fragile and start to crack. Repairs are necessary at this point in order to keep them going. Whenever wiring goes bad, it is time to call in electricians.
Older Structures
Older homes mean older wiring. The older the wiring the more delicate it is. If your home is older than twenty or more years, and your lights are starting to flicker, call us. These may be the start of something bigger and potentially more hazardous.
Experience
You can always depend on the electrical services from Buckley Electric & Automation LLC. Since 1988, we have been helping the community of Greenwich resolve their electrical problems. Our goal is to make sure that your home is left in better conditions than when we came in.
Home Wring Types
At one time, aluminum wiring was used in homes all across the United States. It is not used as much today as copper is a better conductor. Copper is an excellent conductor source for electricity and does not pose any electrical hazards. We specialize in Electrical Wiring Replacement in Greenwich.
Sizes of Wiring
Electrical Wiring in Greenwich comes in all different sizes and varieties. The size is limited to the amount of power it carries. You'll find that the lines that deliver the prime source of power to your home are as thick as a human thumb. Wiring that delivers power to your dyer and stove is much smaller in diameter.
Benefits
The top benefits of having proper wiring in the home is that it keeps the lights on, the appliances running, and the rest of the home safe. There is a lot that better wiring can do. We want to help ensure your safety as well as the following benefits:
Efficient home
Safer home environment
Cost-effective appliances
For Greenwich electrical wiring services, try Buckley Electric & Automation LLC. No other electricians in the area can keep your home as safe as we can. Contact us today and start living without electrical problems. You deserve it for the safety of your home as well as family.
Our Greenwich Electrical Wiring Provides These Detailed Services
Electrical Wiring
House Wiring
House Rewiring
Electrical Wiring Contractor
Appliance Wiring
Wiring Replacement
Aluminum Wiring Replacement
Old Wiring Replacement
Knob & Tube Wiring Replacement
Phone Wiring
Ethernet Wiring
Electrical Panel Wiring
Hire a Electrician to Handle the Electrical Wiring

The Electrical Wiring in your home needs to stay up to date. This is for legal purposes as well as better efficiency. Most homes in Stamford which are older can benefit from electrical services, especially in the home. The fate of your home relies on reliable and durable wiring. Older homes have older wiring. If…

Read More

If you are looking for Electrical Wiring in Greenwich then please call 866-200-0076 or complete our online request form.