Generac Home Generators in Greenwich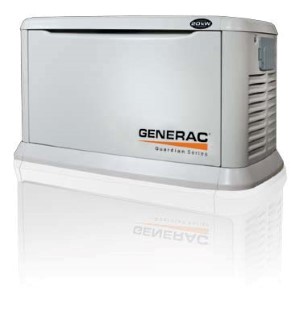 If you have ever been left without power by a major storm before, you know what it's like to be without. Whenever you call Buckley Electric & Automation LLC for a Generac home generator, you won't be left without power for long. As soon as the power goes out, your unit detects this and restores the power. This helps with families as well as seniors. We can have one installed in your home in no time at all sop the next time the power goes out, you can still have all of your home needs met.
The built-in units can supply power to areas of the house that have been affected through a power outage. It is necessary to your family to have power during an emergency because you'll be able to communicate with others. To get a Generac Generator installed in your home call your Greenwich Electrician today!
Generator Operation
The way a generator works is by converting mechanical energy into electrical. This is completed through a magnetic field. Whenever the power goes out, it is quickly restored and any appliances that are connected to it will continue to run in your Greenwich structure.
Benefits
Auto start
Fast connection
Shorter outage times
Safety
Whole Home Generator
Auto Start
When the power goes out, your Stand-by Generators will automatically sense this and return the power back on. You won't be without for very long. You don't have to flick a switch or turn anything on as the unit is directly attached to the home's electrical system.
Faster Connection
You don't need to do to a generator except have it installed. Your unit will be fully up to speed in no time. Once our electricians have installed your system, there's no turning back as you'll keep your appliances running and the lights on next major storm that blows your way.
Shorter Outage Time and Safer to Run
You won't be in the dark long. The units we install are not only brand names but run instantaneously. A return on them is about 30 second. Also, there is never a reason to be concerned about the safety or operation of your generator as there is never a threat or risk of electrocution.
If you think that you'd profit from a Generac Home Generators in Greenwich, contact the pros at Buckley Electric & Automation LLC. We'll get yours installed quickly and conveniently. Don't compromise your family's safety. You'll appreciate all that a generator can do for your home. Make your appointment today and prevent an outage from ruining your home.
Our Greenwich Home Generators Provide These Detailed Services
Generac Home Generator
Home Generator
Whole Home Generator
Portable Home Generators
Home Backup Generators
Home Generator Systems
Home Generator Installation
Home Generator Repair
Home Standby Generator
Standby Generators
Natural Gas Generators
Diesel Generator
If you are looking for Generac Home Generators in Greenwich then please call 866-200-0076 or complete our online request form.