Electrical Services Hartford, CT;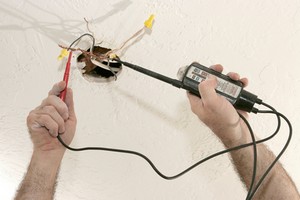 Buckley Electric & Automation LLC is an Hartford electrical service & automation company. We formed in 1988 to provide residential and commercial customers with the best same day electrical services around. Our mission is to provide reliable, on time, affordable electrical services with a 100% customer satisfaction guarantee.
When looking for an electrician to take care of your Hartford electrical repair or automation project, be sure you choose a company who has been in the electrical business a long time. You don't want to risk it when it comes to electrical systems.
We will always be there for you when you need us. We offer a wide range of services to meet your residential or commercial needs. With us, you can have an electrical safety inspection done with any of our regularly scheduled services, so don't hesitate!
Residential Electrical Wiring & Repairs
Before deciding on an electrician for wiring and repairs, determine the scope of work that needs to be done. For major repairs, remodels, and new constructions, it is imperative you hire a skilled professional to take care of the electrical wiring.
Improper wiring can be very dangerous and can lead to fires, putting everyone at risk. Not to mention, if the electrical wiring does not pass proper safety inspection, it could lead to expensive home restorations and the costs to redo the work.
Hartford Lighting Installations
Nothing else enhances the home at night better than outdoor landscape lighting. It provides an ambient effect to trees, shrubs and flowers. Landscape lighting also has a practical side. It is a great way to mark pathways or accent garden areas. Get the full use out of your garden, yard and patio areas in Hartford by adding decorative landscape lighting to your outdoor spaces.
Outdoor or landscaped lighting provides an increase in safety, security, show cases the beautiful landscaped yard at night and provides ambiance. Landscape lighting allows you to enjoy your beautiful landscape and gardens at nighttime. Call for an estimate today, we'd love to help you install your outdoor lighting.
Why Hire A Hartford Electrical Contractor?
An electrician in Hartford is someone who specializes in the wiring and repair of electrical mechanisms. Most Hartford homeowners will rarely need the services of an electrician, but when it is necessary choosing the right contractor is very important.
Electricians are typically needed to re-wire or repair existing electrical systems. They are also needed for construction, including additions and remodels, to place the electrical outlets and install lighting.
Electricity is dangerous, don't do the work yourself. If you don't choose us, please choose a professional electrician with experience.
If you need a reliable electrician for Hartford, CT electrical services, please call us at 860-408-9713 or complete our online request form.