Landscape Lighting in Easton – Electrical Repairs, Installation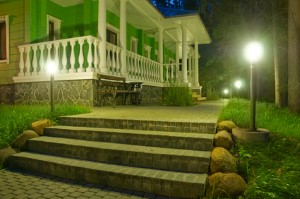 When it comes to Greenwich landscape lighting you should know that there are several benefits to completing this task for your home. Even more importantly, you should know the name to call on for this type of work is Buckley Electric & Automation LLC. The most obvious reason, and the reason we get the most requests for the service, is that it makes your landscaping look spectacular. If you are going to go through the effort and expense of having professional landscaping completed, you should want to bring attention to it, day and night.
You really can create a totally different look with your landscaping by being able to illuminate it at night, too. Whether you like to host outdoor events in the evening or just want to be the envy of the block, this type of lighting can do wonders for the look. This includes flowers, plants, walls, water features and so much more. Highlight the features of your property you want to get noticed with our lights for landscaping.
Landscape Lighting Pros
Of course the opposite is true as well: proper lighting also pulls the attention away from anything on your property you would rather not get noticed. This is a great way to divert attention away from anything unappealing on your land or as part of your home. Another fairly obvious benefit is that more lighting means more safety. Whether you have people over or just would like to see better when you bring your bags in from the grocery store, this is the best way to take care of it.
Another added bonus that is extremely important to consider, is as an added measure of security. Criminals and vandals look for homes that are easy targets, in other words low to no lighting where they cannot be easily seen. Add lighting to your yard and suddenly you have created a natural deterrent against criminal activity. Contact us today to find out more about what we can do for you.
Greenwich Landscape Lighting
Since 1988, Buckley Electric & Automation LLC has been the name to trust in for all of your lighting related service needs. In our opinion, your service needs are as important to us as they are to you. We look forward to meeting with you to discuss with you the tasks you need completed.
For the finest in Greenwich landscape lighting and related services, give us a call. There is a reason we retain such a high rate of repeat and referral business. We are proud of the impeccable reputation we have built and look forward to demonstrating to you how we did so.
Our Greenwich Commercial Electrical Services Provides These Detailed Services
Code Updates
Circuit Installation
New Construction Wiring
Commercial Electrical Contractor
Electrical Remodeling
Electrical Safety Inspection
Surge Protection
Electrical Troubleshooting
Electrical Maintenance
Panel Upgrades
Industrial Electrical
Commercial Electrician
If you are looking for Greenwich Landscape Lighting then please call 866-200-0076 or complete our online request form.