Greenwich Nest & Home Automation Installation Experts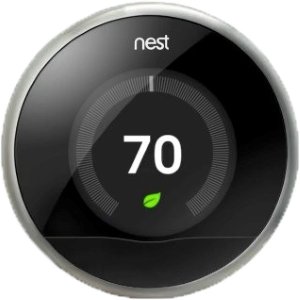 Most people leave the house at a consistent temperature. This helps create temperatures that keep the home cozy, but what about the energy bills? How much extra have you paid into them thus far? The newest and more through thermostat on the market today can change the temperatures in the home to accommodate you. Creating a smart home through Nest & home automation can be done through our electricians from Buckley Electric & Automation LLC. This is the digital thermostat that can help lower your heating & cooling bills by 20%, with the help of your Greenwich Electrician.
With a digital thermostat that learns from your preferences, you can have balanced temperatures that won't cost you and arm and a leg on your monthly energy bills. If your thermostat is not programmed, you might be wasting almost $200 per year.
Auto-Schedule
Most people leave the home at one certain temperature. This remains the same day and night. Your new digital thermostat will learn your schedule and preferences in order to program itself and adapt to the temperatures in your Greenwich home.
Benefits of a Nest
No intricate programming
Learn your preferences
Simple to use
Monthly energy report sent
Professional installation available
Saves energy
Home Automation
Smart home technology can make your home life simpler. Automation in the home is a convenience. Apps that are designed to light up the home can be down loaded to your cellular phone just as a one-touch electrical system.
Types of Automation
There are lots of electrical components that can bring you peace of mind. Although there are digital thermostats out there that can read when you are home or not and adapt to those settings, you can automate the home through:
Smoke alarms
Door and window sensors
Reliability
When a Home Automation System is implemented into the home, you're not only getting reliable systems that will help keep the home warm without turning the temps up or keeping the lights on to prevent theft. You're getting systems that won't fail you and put more money back into your pocket.
Convenience
Today's automation systems put you in control of your home. It doesn't matter if you are at home or not, you'll always have full control of your home. From one touch of your cell phone or remote device, you can set an alarm, turn on the TV, and even have a warm home waiting for when you get home.
Call Buckley Electric & Automation LLC for the latest in Greenwich Nest & home automation. We make life simpler and built for today's society. Call to schedule an appointment.
Our Greenwich Nest & Home Automation Provides These Detailed Services
Nest Thermostats
Nest Installation
Programmable Thermostat
Smart Thermostat
Home Automation
Home Automation System
Wifi Home Automation
Wireless Home Automation
Home Protection
Home Security
Surveillance Systems
Security Systems
If you are looking for Nest & Home Automation in Greenwich then please call 866-200-0076 or complete our online request form.