Electrician and Home Automation West Hartford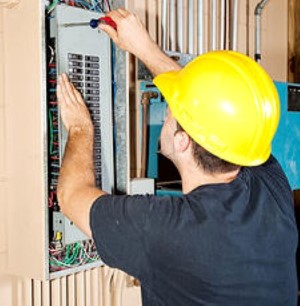 Your home is your castle, and it should always be treated like such. A big part of making sure that your home has the best at all times is by ensuring that you get it the best electrical services possible whenever something goes wrong with your home's electrical system. If you are living in an older home especially, your are going to want to have a professional home inspection performed at least every couple of years, in addition to making sure that you have your electrical panel upgraded, and that you are getting the high-quality repairs that you need as issues arise from time to time. Most times, older homes don't have electrical systems that are set up properly according to today's standards, and this can often have a negative impact on their overall safety and efficiency.
There are a number of homes out there that, even if they have been updated in recent years, might still have older wiring. Wiring systems like knob & tube are still found in a number of homes today, and these older systems have the potential to be a serious danger to your home. The problem with these older wiring systems is partly that you could have a much more efficient system in place, and that these older systems can easily become more and more dangerous as time goes on. Rewiring a home requires a professional electrical contractor who is both skilled and knowledgeable, and you can find both when you call the professional West Hartford electrical contractors at Buckley Electric & Automation LLC.
If you have any questions about our full line of professional electrical repair services, or you would like to call and schedule an appointment for your service, give us a call today. Our team of experts are always standing by and are willing to do whatever it takes to ensure that your home's next electrical repair service is a complete success.
West Hartford Electrical Safety Inspection
An electrical safety inspection is just one of the many high-quality electrical services that we provide to each and every one of our customers in the West Hartford area. Older homes especially can benefit from an electrical safety inspection as these will help detect and identify any problems with your home's wiring, outlets, electrical panel, and much more. In addition to this, these safety inspections can help you eliminate defective breakers, and help to increase the lifespan of your appliances while also making it safer to use them and your home's outlets. You might also find that electrical panel upgrades to be an effective way of modifying your home's electrical system to help it run more efficiently and safer. Our team of professional West Hartford electricians can help you handle any and all problems with your home's electrical system.
West Hartford Electrician
A reliable electrical contractor starts any new project by completing an estimate of the expenses that are going to be involved in your project, and in a number of situations, they will also have to bid against other contractors. A reliable electrician like those at Buckley Electric & Automation LLC can get you all that you need in terms of quality electrical work. Our team of experts can help you with repairs, installations, and maintenance for all buildings, residential and commercial.
Latest Project
If you are looking for a professional electrician in West Hartford or the surrounding areas, give us a call today at 860-408-9713 or fill out our online request form.